Thought I should share this with everyone, it is very interesting and worth knowing!
Each finger reflects what is going on in specific organs
What to Look For:
The Thumb:

Reflects what is going on in the brain, excretory system and in the reproductive organs.
Index Finger: Reflects what is going on in liver, gall bladder or nervous system.
Middle Finger:

Reflects what is going on in the heart and circulation.
Ring Fingers: Reflects what is going on in the reproductive organs and the hormonal system.
And the Little Finger: Reflects what is going on in the digestive system.
The Lunulae (Lunula is singular form, Lunulae is plural. The lunulae are those little white moon things at the base of the nail): There
should be 8 of these. The lunulae on the little fingers should be missing according to Eastern Medicine Philosophy. The one on the

thumb nail should be 25% or less than the total length of the nail from base to flesh line at the top.

If the thumb lunula is too large the heart and circulation is working overtime and eventually this overworks the heart. The

person may be exhibitin
g high blood pressure.
Other signs that the heart is working overtime would be the presence of "heart line"

on the ear lobe (a line just above the lobe itself) and a pointed tongue. If the tongue is red at the tip, there is a more serious

involvement of the heart.
Lunulae on the little fingers also is a sign that the circulation is working overtime (especially in the digestive area). High blood

pressure may be the cause as well.
Fewer than 8 lunulae: Many rule-outs here such as poor circulation, anemia, fatigue, not enough oxygenation or exercise, heart

disease, imbalanced nervous system, numbness, protein deficiency, Vitamin A deficiency or weak-spirited (low life force or "chi").

The most common cause I see is that people forget to breathe and forget to take deep breaths. Check out my basics of breathing

handout and practice some meditation.
Lunulae are red or blue or there is a reddish or bluish tinge just above the lunulae but not on the rest of the nail: Heart

disease, heavy metal poisoning or lung disease.
Shoot-like things emanating from the border of the lunulae: This is not such a good sign. It can mean thyroid problems or

cancer. I have seen many men with this on their thumbnails and most have told me that they had prostate cancer or had their

prostate removed due to cancer. I have also seen this reverse when you get to the core cause of this pesky disease in the body, but

it takes dedication to do it. If you have this sign you might want to get a couple of blood tests from your doctor, a PSA (Prostate

Specific Antigen) test and a Thyroid panel. It's always nice to know what is going on so you can do something about it.

An interesting note: You can tell often if a person is right-handed or left handed because the lunulae will be larger (or there may

be more of them) on the hand that is used more often.
Nail Texture and Markings:
Vertical Ridges and Split Nails: Lots of rule-outs here, but they include--Adrenal gland problems, arthritic tendencies, asthma,

broken heart, bronchitis, calcium deficiency, chronic fatigue, chronic inflammation, chronic stress, depression, emotional trauma,

excretory system conditions, hyperactivity or overexertion, iron deficiency, kidney problems, laryngitis, nervous problems, poor

digestion/absorption in the small intestine, chemicals from food, dieting, protein deficiency, respiratory problems, unhappiness,

Vitamin A deficiency, yeast and other fungi, lupus, chemo or radiation side effect, drugs or prescription use.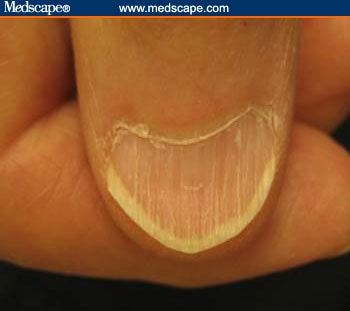 Horizontal Dips:

Poor circulation, picking at the nail bed, heart disease, stress, lack of essential nutrients, trauma.
Source:
http://www.naturalhealthtechniques.com/ExamForms-MedicalIntuitive/fingernail_analysis.htm