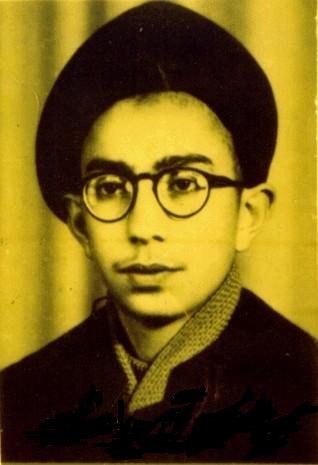 Right from the days of your brilliant youth,
You stood by and strived to learn the truth,
Today for the house of wilayah you are the roof,
Today for our nation you are the fountain of youth!
Like a lion you fought, giving your hand and your blood,
When the streets with martyr's souls did flood,
To ensure that justice was the only word,
And by these sacrifices, falsehood was nipped in the bud.
With every noble stroke of your guided pen,
You awaken the souls of slumbering men,
Saving them from their entry into the lion's den,
And the enemy clucks like a frightened hen!
When comes the time for prayer,
And you raise your one-handed pair,
See how flourishingly well we fare,
Under our father's nourishing care.
Ah! The enemies can only stare!





The pleasure of your Master is your pursuit,
And your unshaken nature is of repute,
For your warm, left handed Salute,
Shakes the throne and seat of taghoot.

I am awestruck, blinded, dazed by the rays of your light,
The noor that you are, illuminating our long, dark night,
I follow you without question in this mighty fight,
Which blinded needs a vote to tell them who is right?

Our leader, our friend in the far land Iran,
May God keep you healthy, inspiring us to Iman.