Alright, one more topic. People keep posing challenges, so i figure in response ill just keep pumping out the information.
Alright, so basically id like to talk about how we know the age of the earth. This actually may take a bit of explaining because there are...many many lines of evidence, and many details. But, perhaps i can summarize it fairly quickly, and if anyone has questions, then i can respond with more depth.
Ok so, the age of the earth is roughly 4.56 billion years old. Which may sound old, and sometimes its hard to comprehend. But once you break it down into segments with names, and you become familiar with the events that occurred throughout time, it actually becomes quite understandable.
Ok so, the earth, first off is like a cake. It has layers.
Right, so...layers of rock develop on the surface of the earth by depositional processes. You know, rivers depositing sediment and lake deposits and sediments eroding from other regions and being transported. And layers also develop from volcanism and various volcanic events. So, if i look at a layer in the earth, it may hold traits of a lake deposit. And therefore i can tell if a lake was in a certain place in the past.
If we look at the diagram above, we can use simple principals to determine ages of rocks relative to each other. For example, A is younger than C because A could not be on top of C if C were not already under it.
or, G must be younger than B, because if B did not exist, then G could not go through it. E must be younger than G because G does not cross cut E, and therefore, G must have been eroded and overlayn by E. I must be older than C, because C contains bits of I within it. C couldnt hold pieces of I if I didnt already exist. Logically, all of this seems like common sense, but it still needs to be said.
There is also the fuanal succession. Which i made another topic on transitional fossils, so this holds a bit of relation to that.
If you examine the picture above. You wont find a leaf or T rex skull in rock unit B (Blue). Nor will you find a trilobite in rock unit A (red). So over the vast earth, you can find very specific fossils that exist in very specific times, and you can use them to correlate layers and other dating methods.
Ok, so these are basic relative dating principals. Theyre considered relative because, theyre relative to eachother. They dont tell us the actual age of the planet, but they do tell us that, A is older than B is older than C. If A takes X years to form, and B takes Y years to form, A + B can give us a generalized idea of how old the earth is.
With relative methods alone, anyone and everyone, given that they examine the earth, can intuitively see that the planet is really really really old. There are very complex structural features in the earth as well, that it would take me more time to explain, ill give a single example.
Lets say i have a Rock layed on the ground. Then due to plate tectonics, the rock is flipped vertically. Ok well, We all know how fast the continents drift around the planet. It takes a long time for a rock to be flipped 90 degrees. You dont need to be a highly educated scientist to deduce the idea that the planet is really really really old. You just have to see some of this stuff, and you will automatically know.
Ok, so now, ill move on to absolute dating methods. Now, there are, So many dating methods, its honestly mind boggling trying to consider them all. There are, tree cores, ice cores, varves, luminescence, fission track, there has to be atleast 15 radioactive methods. I mean, the list goes on and on.
But, for the sake of keeping this post fairly simple, i will simply put our radiometric dating as a whole. And, ive considered alternative explanations to how these methods could be flawed, and how they could be mistaking an old planet for a young one, and there really are none.
Basically, the way radiometric dating works is, you have elements that are radioactive. Radioactive elements blow out particles to stabilize themselves. And in doing so, an unstable parent nucleus can stabilize into a daughter nucleus. As seen above.
And what we find is this transition. Like, lets say we have parent and daughter isotopes in a rock. The element takes 23 years for half of its parent isotopes to decay into daughter isotopes. We call this a half life. So, we have a half life of 23 years. Ok so, If i look at my rock, and 50% of its atoms are parent and 50% are daughter, i know that it has undergone 1 halflife, and is 23 years old.
Right, and if i see that 75% of the rock is daughter and 25% are parent, then i know that the rock has undergone 2 half lives. 50% of 50% is 25%. Right. So i know that it is roughly 46 years old.
So, lets say in real life, i find a rock that has a billion year half life. and its undergone 2 half lives. Ok, the rock is 2 billion years old.
Thats basically how it works. There are many many elements that decay in this way, all with varying half lives that we can cross correlate.
Like, i made a topic about the k-t extinction. Well, the iridium layer has been dating by if im not mistaken, 4 or 5 different radiometric dating methods. That is to say, 5 different elements with varying decay rates, all gave the same age of the rock.
Its like, if i took 4 hour glasses, all of varying sizes with different amounts of sand and different rates of sandfall, all of the hour glasses yielded the same age.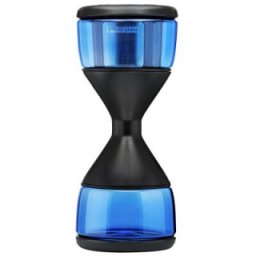 All giving the same age.
All correlating also with relative methods.
So, you may ask, what if theyre all wrong? Well, that logically doesnt make any sense. How could their rates of change all be independently manipulated and matched? And on top of that, when radioactive elements decay, they release heat. Mathematically, if these guys decayed too fast, they would turn the surface of the earth into multen lava. So we know, that they arent decaying superfast or anything tricky.
In some cases you actually have a particular radioactive element, trapped within the crystal lattice of another. Its like, making a box out of green legos and having the middle of the lego box be made of red legos. If the red legos decay and turn into playdoe, what you will have is a box of green legos with red plado inside.
With examples like this, you know the original amount of parent isotopes (red blocks), because you can see the exact space they once filled within the lattice of green blocks. So, in many cases, we know exactly what the starting proportions of the elements were prior to decay.
I could go on and on, but odds are ive lost most people at this point, so i will stop now.
Ive given a rough overview of relative methods which are intuitively common sense to anyone and everyone. And they correlate to absolute methods, which correlate to themselves, which correlate to other methods etc.
I hope everyone has enjoyed, and if anyone has any question, please ask. And i hope people come here to challange me first before they go around calling scientists fools. The people who discovered the age of the earth, or geologists in general. Scientists in general. We arent stupid. We understand what were doing, we understand where there may be flaws in initial research and we make sure that we establish our material and we find ways to answer to those flaws before we go around claiming it as truth.
In this case, i will say that there is a very very very high probability, were talking 99% chance, the earth is really old, presumably 4.56 billion years old, and if the experts agree on this, then the laymen should too, or u should atleast believe it is plausible.
Edited by iSilurian, 11 December 2011 - 02:04 PM.