Irishman, on 19 May 2011 - 07:41 AM, said:
Basra rewriting history again to try and brush any evil Egyptian or Arab history under the carpet. They are not "whites", so only his sources count as valid.
http://www.dignubia....e/bce-1540a.htm
While the Hyskos kings ruled northern Egypt, one of them heard that an Egyptian prince in the south planned to rebel against him. The king then sent a messenger carrying a letter to the king of Kush, asking for help. The letter asked the king of Kush to attack Egypt from the south; the Hyksos king told him he would attack from the north at the same time. Then they would divide up Egypt between them. The Egyptian prince managed to capture the Hyksos messenger with his letter before he reached Kush, so the plan was spoiled. The prince and his sons eventually overthrew the Hyskos kings and reunited Egypt.
The Egyptians then invaded Kush, burned Kerma, and claimed Nubia as an Egyptian province. From about 1450 BCE until 1100 BCE, Egypt ruled Nubia. During this time, the Egyptians explored Nubia for gold and other raw materials. They shipped what they found to Egypt and presented it to the pharaoh in great pageants.
I guess the "Muslim" Moors never attacked and took over large parts of Spain and Portugal. No Muslim invasions of Southern Italy and Sicily etc... Never a massive Persian Empire pre-Islam etc...
Countries and Empires have been on conquests since time began. So us "Whities" have been more successful than you "Brownies" or "Blackies". Well too bad. Get over it!!
S.O.Y. Keita has proven that all the skin tones of Egypt (and Africa as a whole) be it darker black skin, or lighter skin of Berbers or Egyptians commonly termed "Arabs" are all indigenous to the African continent itself.
"Arabs" never left the Arabian Peninsula and settled in massive amounts anywhere else, people today called "Arab" are mostly just people who were "Arabized" culturally and linguistically. As for the examples you bring, Muslims were invited to come to Spain as liberators by Jews and Christians opposed the oppressive Spanish Visgothic king Roderic:
http://www.hispanicm.../andalusia.html
) read bout Julian Count of Ceuta (
http://en.wikipedia....ki/Count_Julian
). Also the Moors (who were African Berbers) did not mix in any large amount with European peoples. The same is true with regards to Portugal, Southern Italy, and Sicily: Berber Muslims from North Africa once ruled them for a short period of time in history but they didn't leave any large genetic stamp on those places.
The same is true with regards to Persia. The Persian people mostly were not even "Arabized" as they retained Persian as their main language even after mostly converting to the religion of Islam over a period of centuries. Even Iranian Arabs themselves are mostly descended from people the pre-Islamic Persian Shah's settled in the land of Persia itself. The Persian Empire ruled Arab lands like Iraq for long periods of time and many of these Iraqi "Arabs" were once religiously Zoroastrians.
As I have done before let me post a few images of people commonly termed "Arab" to show that there is no such thing as an "Arab" race (race itself is an unscientific social construct) and that people commonly termed "Arab" are only descendants of peoples that had been slowly Arabized over a period of centuries.
Sudanese leader Omar al-Bashir (a black African, who speaks Arabic as his mother tongue)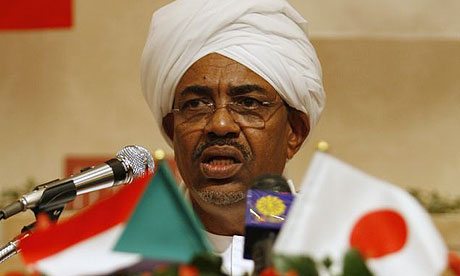 A Yemeni man (Yemeni's are obviously termed "Arab" and speak the Arabic language as their mother tongue) note this man's skin tone could be compared easily to African people like say Somalis:
Former Palestinian leader Yasser Arafat (a Palestinian Arab, Palestinian Arabs descend from the prehistoric people of the land of Canaan aka Palestine the Canaanites as proven in genetic studies done by "Israeli" geneticist Dr. Ariella Oppenheim of Hebrew University in "Israel":
http://www.huffingto...7_68780291.html
,
http://en.wikipedia....genetic_studies
)
and famous Palestinian Christian author and writer Anton Shammas:
Note that all of these people look like the indigenous people of their regions! This can especially be seen when we compare a Palestinian Muslim like Yasser Arafat to a Palestinian Christian like Anton Shammas; and notice that they look almost identical despite their religious difference (one being a Muslim and the other being a Christian). Also Omar al-Bashir looks like other black Africans (not famous people stereotypically brought up as "Arabs" like say the deceased Osama bin Laden of Saudi Arabia/Yemen or the also deceased Saddam Hussein of Iraq). Another good example I could have posted is Muammar Gaddafi of Libya who clearly has Berber ancestry, but is considered "Arab" because he speaks the Arabic language as his mother tongue: meaning he and his ancestors were culturally and linguistically Arabized over a period of centuries.
Edited by Basra, 19 May 2011 - 08:20 AM.